Frequently Asked Questions
What is the Steward Patient Portal?
Our new patient portal is designed to improve your patient experience and enhance access to your health information. Once registered, you can now easily and securely access your information, any time, from a desktop computer, laptop, smartphone, or tablet device.
What can I do on the portal?
Your portal account provides access to your medical information. You can check your visit history, view upcoming appointments, message your provider's office, review lab results and reports, and more. The portal is available to you 24/7.
What language is the portal available in?
The patient portal is available in English or Spanish. Once logged in, there is a "Switch to" button at the top right that enables you to select the preferred language.
What is the url for the Steward patient portal?
The Steward patient portal may be reached by visiting:
How can I get an account for the new patient portal?
If we have your email on file, you will automatically receive a portal invitation that will include a link to sign up for the portal, as well as your temporary username and password. If we do not have your email on file, once you share your email with us, you will receive an email invitation to join the portal.
Why is the portal asking me for User Validation?
Once you complete your initial log-in, you will be asked to enter either your birth date or phone number to Validate your account; after that, you can enter the Username and Password you would like to use for your portal account. You will need to enter this information twice, as well as respond to a security question to ensure privacy and confidentiality. You will also need to agree to the Consent Form to use the portal.
I did not receive an email invitation to the new portal. What should I do?
Please check the Spam/Junk folder on your email account.
You may have also not received an invitation if your email address was not in the database or if the email address the practice has on record is not a valid email address. If we do not have your email on file, once you share your email with us, you will receive an email invitation to join the portal.
I created my new portal account but I'm not seeing my medical information. How come?
If the you created a new account but do not see your information right away, try logging out of the portal and then logging back in. Some information may take a little time to fully load. Contact your practice if you are not seeing all your information.
What if I forget my username or password?
If you forget your username or password, on your sign-in page, click on the "Trouble Logging In" link; then select "forgot username" or the "forgot password" button and follow the prompts to create new ones.
Can I print information from my portal?
Yes
Will I receive an email when there is a new message from my provider?
Yes.
Will I continue to receive my test or lab results in the patient portal?
Yes. Under the CURES Act, as soon as your test or lab results are available, they will automatically be sent to your patient portal account. Bear in mind, you may receive your test or lab results before your provider has had an opportunity to review them to discuss with you.
How do I compose a message to my provider?
Go to "Messages" and click the "Compose" button
How do I request a prescription refill?
Go to "Messages" and click on the "Refill Request" button. A list of your current medications will be viewable. Click on the box that is next to the medication you need refilled.
Can I make a referral request?
Yes. To request a new referral, go to "Messages" and select "Referral Request. The portal will display your past referral requests. You can either click on the box next to the one you need and then click "Request Referral" or click "Request Referral" for a new referral.
Can I access my Medical Records?
Yes, you may access medical records including personal health record, lab/diagnostic reports, visit summaries, refill requests, referrals, immunization history, and growth charts.
How do I set up a Proxy account?
If you need a proxy account, please reach out to your provider's office for assistance.
Where can I reach out for help if I am having if I have a question or an issue?
For any portal question please contact us at 888-696-0108 Monday through Friday, 8 a.m. – 5 p.m. EST.
Is there a mobile app for the portal?
Yes. A mobile app for the portal is available in the Apple Store and the Google Play Store. 
Apple iOS Version: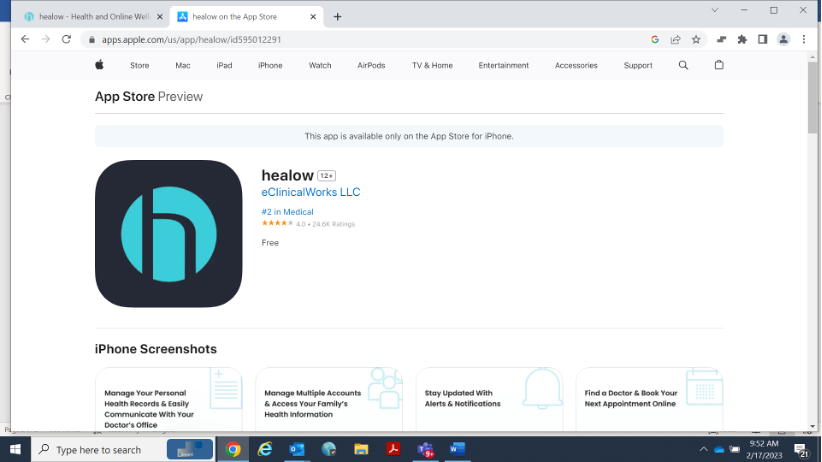 Android Version in Google Play Store: