Patient Portal
StewardCONNECT Frequently Asked Questions
Steward Health Care has introduced a new patient portal, StewardCONNECT. The first phase of the portal introduction was implemented at our Steward Medical Group outpatient practices.
As of April 18, 2023, we are introducing a new StewardCONNECT portal for hospital patients in Massachusetts. We have already introduced this new portal for Steward Medical Group outpatient practices and at Steward hospitals in Arizona, Florida, Ohio, Pennsylvania, Texas, Louisiana, and Arkansas.
What is StewardCONNECT?
StewardCONNECT is our new patient portal, designed to improve your patient experience and enhance access to your health information. You can now easily and securely access your information, any time, from a desktop computer, laptop, smartphone, or tablet device.
What can I do on the portal?
Your portal account provides access to your medical information. You can check your visit history, schedule appointments online, manage your medical bills, contact your provider's office, review lab results and reports, and more. The portal is available to you 24/7.
How do I get to the new StewardCONNECT portal?
The StewardCONNECT portal may be reached by visiting: www.stewardconnect.org
Do I need to set up a new account?
Yes. If we already have your email on file, you will automatically receive a portal invitation. If we do not have your email on file, once you share your email with us, you will receive an email invitation to join the portal. If you are a Steward Medical Group outpatient and recently created a StewardCONNECT account, you do not need to set up another new account.
If you are a Steward hospital patient in the Miami, FL region and did not already sign up for StewardCONNECT, as of Oct. 1, you will need to signup and create a new StewardCONNECT account to access your hospital visit information.
Why am I seeing an error message when I log into my existing portal account?
Steward Health Care has transitioned to a new patient portal, StewardCONNECT. For best user experience, we recommend when patients first register for the new portal, they do so from a laptop or desktop. Patients may also sign up from their mobile device. To access the new portal, please visit: www.stewardconnect.org
I registered for the new portal. How do I sign in?
For patients who have successfully registered a new account on the new StewardCONNECT portal, to sign in, visit: www.stewardconnect.org 
When registering for the new portal for the first time, how should I answer the registration question of "Do you already have a StewardCONNECT account?
Anyone who is registering for the new StewardCONNECT portal for the first time should select NO as the answer to this question for best user experience.
Anyone who has registered for the new StewardCONNECT portal and is now registering a family member using the same email address should respond YES to this question when registering their family member.
I am an existing patient and I did not receive an email invitation to the new portal. What should I do?
Please check your Spam/Junk folder on your email account. The email will come from "Invitation Manager."
Patients may have also not received an invitation if their email address was not in the Steward database or if the email address the patient has on record is not a valid email address.
I created my new portal account but I'm not seeing my medical information. How come?
If a patient has created a new account but does not see their information right away, they should try logging out of the portal and then logging back in. Some information may take a little time to fully load. If you need assistance regarding your information not loading, please contact the StewardCONNECT portal support line at: 888-696-0108.
I am trying to create my account but I am receiving a message that the system is not recognizing me as a patient. What should I do?
If you receive a message that the system is not recognizing you as a patient, please call the StewardCONNECT portal support line at 888-696-0108. The support team will need to send you a new email invitation to aid your sign-up process.
I am signing up for the portal but the sign in page is not accepting my phone number. What should I do?
When entering your phone number during your registration on the sign-up page, please do not insert hyphens between the numbers or any other non-numeric character.
I am signing up for the portal and being prompted to insert a code that was sent to me from Steward but I do not have that code. What do I do?
If you are signing up for the portal and receive this message, it indicates that the email invitation you are using for your sign-up is outdated. Please contact the StewardCONNECT portal support line at 888-696-0108 and request a new email invitation so you can complete your registration.
What if I forget my password?
If you forget your password, on your sign-in page, click on the "forgot password" button and follow the prompts to create a new password.
Can I print information from my portal?
Yes. The portal, at this time, does not support the uploading of documents such as photographs or forms. If you need a form from your doctor, please ask the office to securely email it to you.
Will StewardCONNECT email me when there is a new message from my provider?
Yes. When you have a new message, you will receive an email to notify you.
Will I continue to receive my test or lab results in the StewardCONNECT portal?
Yes. Under the CURES Act, as soon as your test or lab results are available, they will automatically be sent to your patient portal account. Bear in mind, you may receive your test or lab results before your provider has had an opportunity to review them to discuss with you.
Can I give access to my portal account to a family member or other trusted individual involved in my care?
Yes. Patients will need to grant this access directly to a family member or other trusted individual. See the "Share Health Information" section in the portal and follow the instructions there.
Can I pay a bill online?
Yes.
Will I receive a confirmation that my payment went through?
Yes.
What happens if my payment does not go through?
If your payment does not go through, you will receive a notification and be asked to try again or to contact our Patient Financial Services Team for Outpatient Practice bills, or our Hospital Billing Team for a Hospital bill.
Where can I reach out for help if I have a question or an issue?
For any portal question please contact us at 888-696-0108 Monday through Friday, 8 a.m. – 5 p.m. EST.
Is there a mobile app for StewardCONNECT?
Yes. The StewardCONNECT app is available in the Google Play store for Android and in the Apple App store for Apple devices.
The following six questions, at this time, pertain only to Steward patients in Florida, Ohio, and Pennsylvania, Texas, Louisiana, Arkansas and Arizona, and Massachusetts as of April 18, 2023.
Why am I seeing duplicate lab work results?
Your lab results may show in the portal from both your hospital and your outpatient practice provider.
Will I see my vital signs?
Only the last set of vital signs before your hospital discharge will show in the portal.
Will I see labs or imaging results under the Procedure section?
Yes
How can I obtain a summary of my hospital visit?
You can request your summary in the portal Health information/Visits section. Click "Generate Patient Summary." Your summary will be available to you 3 hours after you request it. You will find it in the Health Information/Documents section of your portal.
Can I pay my medical bills through my portal?
Yes. You can manage your hospital and outpatient practice bills through StewardCONNECT. 
For your Hospital Bill, select Pay Balance and View Statement. Follow the prompts to pay your hospital bill through our third-party vendor portal. If you need assistance, call the Hospital Billing Phone Number at 888-527-1968.
If you need to make an Outpatient Practice bill payment, select Billing on the left navigation bar, select Invite next to the patient's information in the table that shows at the bottom, enter payment amount in Make Payment window, enter your credit card information and follow the prompts.
Sharing a Record with Guardian after Patient reaches Age of Majority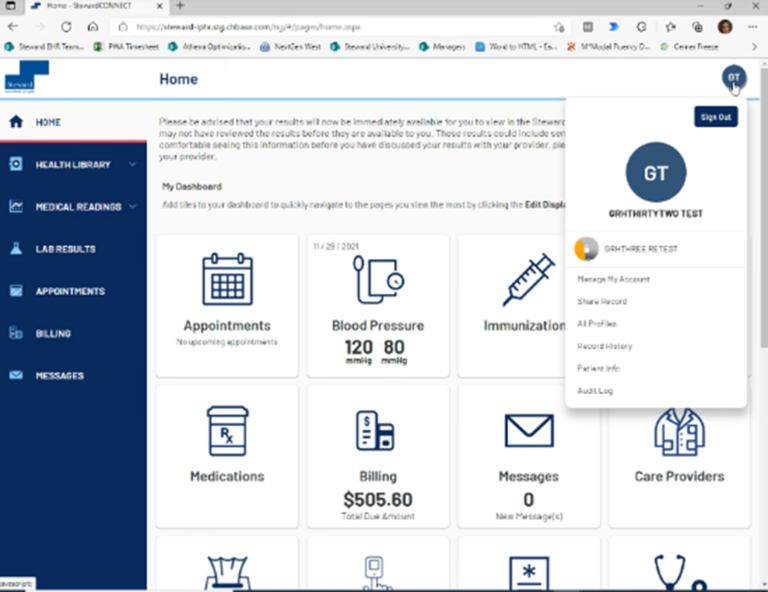 ROLE OF AOM PATIENT (13 & OLDER) AFTER COMPLETING REGISTRATION
Patient will login to portal after accepting new invitation for a separate account from the guardian's account due to reaching Age of Majority. 
Click on the top right account icon 
Go to Share Record 
Click the blue "Share health information with someone you trust" button

Enter in the recipient's email.
Need to pick a passcode that they will give to the other person for login purposes 

It can be anything, a phrase, numbers, etc.
Min of 4 characters
Max of 5 attempts to get in with the passcode

Select Sharing Level (see descriptions in screenshot, below)

Read Only
Read and Modify
Custodian

Select Information types (Ex: appointments, labs, medical history, etc.)


AOM patient can choose all types or pick specific information to be shared.
Allows the AOM patient to be specific on what the new shared record invitee will be able to see in the AOM patient's record
For AOM Patients that elect to specifically share only billing information, they must select "Insurance Plan," "System Status Information," "Non-Personal Demographic Information," and "Personal Demographic Info" as information boxes to be shared. (See screenshot below for a visual representation of these boxes).

Select either "Access Expiration Date" or "No Expiration Date" option
Click Send Invitation and email will go out.
ROLE OF GUARDIAN RECEIVING THE AOM PATIENT'S SHARED RECORD
Check for email to accept invitation link to be able to view AOM patient's record.

 

After selecting Accept invitation, Guardian will be asked if they already have an account. They would select yes, and put in their (Guardian's) portal account information to sign in.
 
The next screen will ask the Guardian to input the secret passcode assigned by the AOM patient during the sharing process. (This will lock after 5 attempts.)
 
The next screen will ask you to "Allow" yourself (the Guardian) to see the AOM patient's shared record. Select Allow.
 
This will now put you in the patient's shared record, and if you select a portal option that the patient has not given you access for; you will receive the below message. The patient will have to update your authorization on their own portal account.
 
Once the Guardian has accepted the invitation into the new AOM's patient record, the existing record of the AOM's in the Guardian's account will become static and no further updates to the record will be received in the Guardian's account.
If the Guardian would like to delete the old AOM's patient record they may do so by following these steps: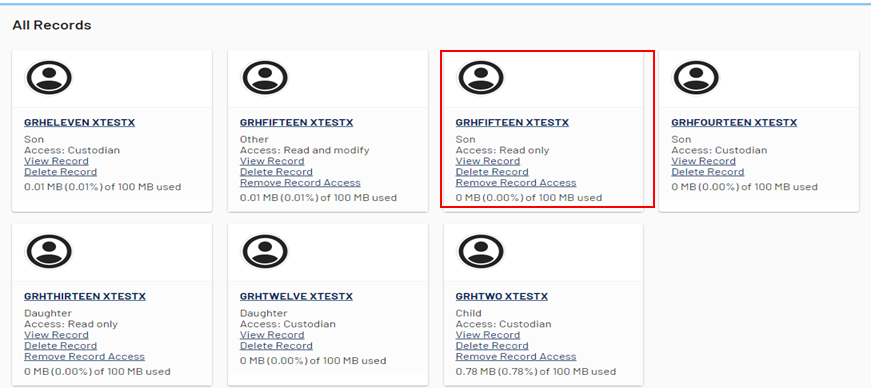 While Guardian is logged in to their portal account, they should navigate to the Profile button in the top right corner and select "All Profiles." This is the screen they will see, showing all of the active records associated with this account.
The Guardian would then find the account that is the older record (the record previous to reaching AOM) by finding the duplicate record name and selecting the one that has a relationship of anything that is not "Other." For ex: son, daughter, etc.
Another way is to look at the amount of data present for each record. Whichever record has more information in it (for ex. Labs, medications, documents), this would be represented by having more data
Then select "Delete Record" on the duplicate record and confirm on the next page.